Logan High School


Class Of 1974
In Memory
Judy Watts (Johnson)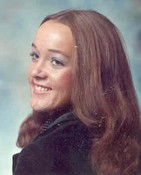 SCOTTSDALE, AZ: Judy Ann Watts Johnson passed away on June 8, 2003, at her home in Scottsdale, Arizona due to a lingering and debilitating illness. She was born in Logan, Utah, on March 14, 1956, the daughter of Calvin R. and Ann Adams Watts.
She was married to Robert J. (Bob) Johnson on July 18, 1975, in the LDS Temple in Oakland, California. She is the mother of two beautiful daughters, Annsley and Sara Ellene Johnson. They resided in Northern California (Fremont, Pleasanton) for approximately twenty years and then resided in Fort Collins, Colorado for ten years. They resided in Scottsdale at the time of her passing.
Judy graduated from Logan High School in 1974. She attended Utah State University and Las Positas Community College in Livermore, California. She was a member of the Northern Colorado Artists Association and inducted into the Rocky Mountain Plein Air Society.
Judy was a remarkable woman, an extremely accomplished pianist, and a talented oil painter. She was a devoted mother, a valiant daughter, a loving sister, a loyal friend, and a constant companion to her husband. Judy showed extraordinary courage and perseverance during the entirety of her illness. She maintained a delightful sense of humor and charmed all of those within her circle. She was capable of loving deeply and compassionately and included so many people into her world. Once she made a friend, she kept that friend. She has given to her family and friends a lasting legacy of laughter and love. Judy saw beauty in common settings and expressed that beauty in her music, her art, and her life.
She is survived by her caring husband, Bob; her two loving daughters, Annsley and Sara; her three brothers, Craig (Dorothy) Watts, Randy (Kathie) Watts, and Kim (Anita) Watts; one sister, Lisa (Rob) Watts Baskin. Her dear parents are Cal and Ann Watts, Logan. She is also survived by extensive family members.
The family would like to give a special thanks to Dr. Jim Jones, National Jewish Medical Center, Denver. He cared for her like no other doctor could or would throughout her entire illness.
She was preceded in death by her vigilant dog. Rosie.
Services will be held on Saturday, June 14, 2003, at the Logan East Stake Center, 1450 East 1500 North, Logan, at 12:00 Noon. Friends and family may call from 6:00 p.m. to 8:00 p.m. on Friday, June 13, 2003, at Allen-Hall Mortuary and from 10:30 a.m. to 11:30 a.m. at the Logan East Stake Center on Saturday. Interment will be at Logan City Cemetery. Online condolences may be sent to the family at Allen-Hall Mortuary