Logan High School


Class Of 1974
In Memory
Rick Abel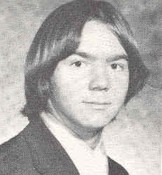 Ricky Dean Abel, 47, died following surgery Friday, April 16, 2004.
He was born April 22, 1956 in Logan, Utah, the son of Morris L. and LaPreal Abel.
His young life was spent in Logan. He played guitar in a school band. Music was always special to him; he was able to share his love for music with his sons and brothers. Family was everything to Rick; he enjoyed spending time with his brothers and sisters. Rick loved spending time with his boys. They were a team and had great fun together.
Rick liked to work with his hands. He built windows and worked as an aircraft mechanic in the aerospace industry. He was the Service Manager for Kool Water; he was looking forward to building the business. Rick's latest passion was an interest in technology, he was learning to build and maintain computers.
Rick will be remembered as a very generous and caring man, in life as in death. Rick was an organ donor helping 33 people live better lives.
Rick married Leigh Sheree Smallwood December 9, 1984 in Layton Utah. They were later divorced. They had two sons. Tyler Lee Abel, born January 5, 1982 and Jason Dean Abel, born April 18, 1986 born in Bountiful, Utah.
Rick is survived by his sons; three sisters, Bette (Doug) Follette of Bountiful UT, Mary (David) Sanders of Layton UT, Joy (Jerry) Hill of Spanish Fork, UT; three brothers Joe (Dau-neen) Abel of Bountiful, UT, David (Marsha) Abel of Kaysville, UT, and Mike (Cindy) Abel of Mesa, AZ. Rick is also survived by 44 nieces and nephews. He was preceded in death by his father; mother; and brother, Randy L. Abel.
Funeral services will be held Tuesday April 20, 2004 at the Canterbury Reception Center 500 South 197 East, Bountiful Utah at 12 noon. Friends may call at the Russon Brothers Mortuary at 296 North Main in Bountiful, Utah at 11 a.m. prior to the services. Interment will be at Bountiful Memorial Park, 2224 South 200 West, Bountiful, Utah.
Online guestbook and direction map at www.russonmortuary.com.